Posts for tag: braces
By Dedicated Dental Services, PC
July 22, 2021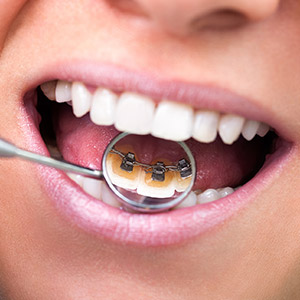 First, there were braces; then came removable clear aligners—both great ways to straighten teeth. But braces with their metal brackets and wires aren't the most attractive look. And, although nearly invisible aligners improve appearance, they don't work in every bite situation (although their range has improved of late).
But now a third choice has emerged: lingual braces. Like their traditional counterparts, lingual braces are fixed in place—but on the back side of the teeth rather than the front. Instead of "pushing" teeth toward new positions, they "pull" them, arriving at the same "destination" by another path.
This new method came about simultaneously by two different orthodontists a world apart and for different reasons. A Beverly Hills dentist was looking for an invisible form of treatment similar to clear aligners for his appearance-conscious patients. A Japanese dentist wanted an alternative that would reduce the risk of damage or injury posed by traditional braces to his martial arts patients.
Lingual braces (referring to their proximity to the tongue) address both of these concerns. All of the brackets and wiring are positioned out of sight. And because they're shielded by the teeth, they're not as likely to be damaged or cause injury following hard contact to the face—a great benefit for athletes, law enforcement officers and, yes, martial artists.
Even so, lingual braces won't replace the other two methods any time soon. You'll need to consider other factors, such as that lingual braces can cost up to a third more than traditional braces. And although their availability is steadily growing, not all orthodontists have been trained to offer lingual braces, so you may have to widen your search radius for a provider near you.
You may also find it takes a bit of time to get used to the feel of lingual braces. Upper braces can affect speech ability, at least initially, and the lower ones can interfere with tongue comfort. Most people, though, do adjust to them within a week or so.
But by and large, lingual braces do offer a fixed option that's out of sight, out of mind. With this newer orthodontic choice, you now have three good options for achieving a healthier mouth and a more attractive smile.
If you would like more information on methods for straightening teeth, please contact us or schedule an appointment for a consultation. You can also learn more about this topic by reading the Dear Doctor magazine article "Lingual Braces."
By Dedicated Dental Services, PC
April 28, 2020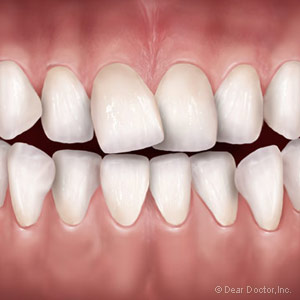 Malocclusions (bad bites) may cause more than an appearance problem — with teeth and jaws not working together properly, you're at higher risk for dental disease or accelerated tooth wear. Fortunately, most malocclusions can be corrected through orthodontics, a specialty for moving teeth to better functioning and more attractive positions.
If you're considering orthodontic treatment for a malocclusion, here are the basics on 3 of the most common orthodontic appliances used for straightening misaligned teeth.
Metal Braces. These appliances have a proven track record for correcting most forms of malocclusion. Braces consist of metal brackets bonded to the front teeth and an anchor band to the back teeth. A thin metal wire passes through the brackets to attach to the bands in the back. Gradually increased tension in the wire incrementally moves the teeth to the desired position.
Clear Bracket Braces. While metal braces do an effective job of tooth movement, they leave less to be desired in appearance. Made of polymer material rather than metal, clear bracket braces offer a more appealing look. But while they're similar in construction to the metal version, they're more susceptible to breakage. Wearers must be extra cautious and avoid hard foods or extreme physical sports contact.
Clear Aligners. The previous appliances are fixed and can't be removed by the wearer. Clear aligners take a different approach with removable plastic trays that fit snugly over the dental arch. A series of trays are computer generated to carefully match the patient's mouth structure, each incrementally smaller than the previous one in the series. After wearing the first tray for two or three weeks, the wearer changes to the next (and slightly smaller) tray in the series, repeating the process until all the trays have been worn. Of the three options, the clear aligners offer the best appearance; however, they're best suited for cases that don't require complex movements.
We can advise you which option is best for you after a complete evaluation, factoring in age, lifestyle and the complexity of your malocclusion. Regardless of the choice, the aim is the same — achieving a healthier mouth, better function and a more attractive smile.
If you would like more information on orthodontic treatment, please contact us or schedule an appointment for a consultation. You can also learn more about this topic by reading the Dear Doctor magazine article "The Magic of Orthodontics."
By Dedicated Dental Services, PC
December 18, 2017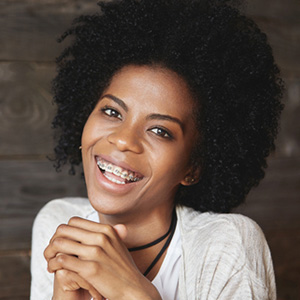 Wearing braces takes time, but if all goes well the changes to your smile will be well worth it. In the meantime, though, you'll have to contend with one particular difficulty—keeping your teeth clean of disease-causing, bacterial plaque.
Don't worry, though—while keeping dental disease at bay with braces can be challenging, it is doable. Here are 4 tips for minimizing your chances of tooth decay or periodontal (gum) disease during orthodontic treatment.
Eat less sugar. Like any living organism, bacteria must eat—and they're especially amenable to sugar. The more they have access to this favorite food source, the more they multiply—and the greater your risk of tooth decay or gum disease. Eating fewer sugary foods and snacks and more dental-friendly ones helps restrict bacteria populations in your mouth.
Brush thoroughly. Brushing with braces can be difficult, especially in areas blocked by orthodontic hardware. You need to be sure you brush all tooth and gum surfaces around your braces, including above and below the wire running through the brackets. A soft multi-tufted microline bristle brush is a good choice for getting into these hard to reach places. Brushing around braces takes more time, but it's essential for effective plaque removal.
Use flossing tools. Flossing is important for removing plaque from between teeth—but, unfortunately, it might be even more difficult to perform with braces than brushing. If using string floss proves too daunting consider using a floss threader or a similar device that might be easier to maneuver. You can also use a water irrigator, a hand-held device that sprays water under pressure to loosen and flush away between-teeth plaque.
Keep up regular dental visits. While you're seeing your orthodontist regularly for adjustments, you should also see your general dentist at least every six months or more. Besides dental cleaning, your dentist also monitors for signs of disease and can prescribe preventive measures like antibacterial mouth rinses. Of course, if you see abnormalities, like white spots on your teeth or red, puffy or bleeding gums, contact your dentist as soon as possible. The sooner a problem can be addressed the less impact it may have on your orthodontic treatment and overall oral health.
If you would like more information on caring for teeth and gums while wearing braces, please contact us or schedule an appointment for a consultation. You can also learn more about this topic by reading the Dear Doctor magazine article "Caring for Teeth During Orthodontic Treatment."