Posts for tag: pediatric dentistry
By Dedicated Dental Services, PC
June 07, 2020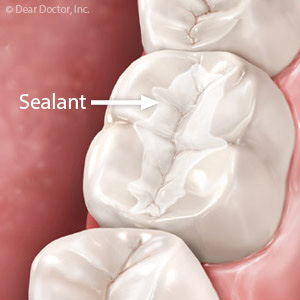 Your child could hit a speed bump on their road to dental maturity—tooth decay. In fact, children are susceptible to an aggressive form of decay known as Early Childhood Caries (ECC) that can lead to tooth loss and possible bite issues for other teeth.
But dentists have a few weapons in their arsenal for helping children avoid tooth decay. One of these used for many years now is the application of sealants to the biting surfaces of both primary and permanent teeth. Now, two major research studies have produced evidence that sealant applications help reduce children's tooth decay.
Applying sealant is a quick and painless procedure that doesn't require drilling or anesthesia. A dentist brushes the sealant in liquid form to the nooks and crannies of a tooth's biting surfaces, which tend to accumulate decay-causing bacterial plaque. They then use a curing light to harden the sealant.
The studies previously mentioned that involved thousands of patients over a number of years, found that pediatric patients without dental sealants were more than three times likely to get cavities compared to those who had sealants applied to their teeth. The studies also found the beneficial effect of a sealant could last four years or more after its application.
The American Dental Association and the American Academy of Pediatric Dentistry recommend sealants for children, especially those at high risk for decay. It's common practice now for children to first get sealants when their first permanent molars erupt (teeth that are highly susceptible to decay), usually between the ages of 5 and 7, and then later as additional molars come in.
There is a modest cost for sealant applications, but far less than the potential costs for decay treatment and later bite issues. Having your child undergo sealant treatment is a worthwhile investment: It could prevent decay and tooth loss in the near-term, and also help your child avoid more extensive dental problems in the future.
If you would like more information on sealants and other preventive measures for children's teeth, please contact us or schedule an appointment for a consultation.
By Dedicated Dental Services, PC
February 28, 2020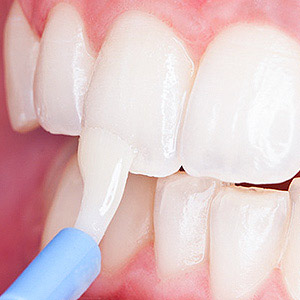 Keeping your child's teeth and gums healthy may sometimes seem like "one step forward, two steps back." You do all the right things like daily brushing and flossing, and keeping sugar consumption to a minimum. But they're still getting too many cavities.
We can add something else to what you're already doing to decrease their cavity rate: apply a concentrated fluoride mixture (stronger than what's found in toothpaste or drinking water) directly to their teeth. Studies have shown that topical fluoride is effective at reducing the risk of new cavities in children at high risk for decay, and may even reverse early decay.
Topical fluoride can be applied as a gel, foam or varnish. The particular method used depends on factors like the child's age or the preference of the dentist. But any of the three methods can deliver a short-term, high dose of fluoride to the teeth.
As a result, the burst of fluoride strengthens tooth enamel against decay, with plenty of evidence of its effectiveness. As such, the American Dental Association recommends periodic topical fluoride applications for children older than 6, and especially those that appear to be at higher risk for decay.
You might, however, be concerned about the long-term health effects of these stronger concentrations of fluoride. Again, research indicates that the only long-term hazard associated with too much fluoride is a condition called fluorosis, which produces heavy tooth staining. Fluorosis, though, is more of an appearance issue and doesn't harm the tooth itself. And it can be avoided in the case of topical fluoride by performing the procedure correctly and conservatively.
There's also a short-term risk of a reaction to the fluoride mixture if the child swallows too much during the procedure, which could cause stomach upset and pain, vomiting or headaches. We can avoid this by using precautions like dental dams and other isolation methods to prevent the child from ingesting it.
Using proper precautions and procedures, topical fluoride is a safe and effective way to give your child added protection against decay. Avoiding this destructive disease can help ensure they'll enjoy good dental health for the rest of their lives.
If you would like more information on keeping your child's teeth and gums healthy, please contact us or schedule an appointment for a consultation. You can also learn more about this topic by reading the Dear Doctor magazine article "Fluoride Gels Reduce Decay."
By Dedicated Dental Services, PC
October 12, 2017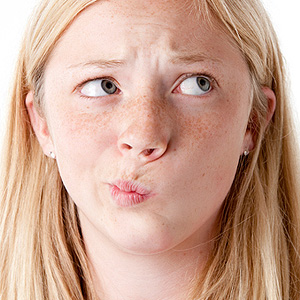 As if the preteen years didn't give kids and their parents enough to think about, new oral health concerns loom on the horizon. Along with major changes to the body, brain and emotions, additional risk factors for tooth decay and gum disease appear during adolescence — the period of development starting around age 10 and extending through the teen years that marks the transition from childhood to adulthood.
Even with declining rates of tooth decay across the nation, the cavity rate remains high during adolescence. According to the American Academy of Pediatrics, 1 in every 5 adolescents has untreated tooth decay. What's more, the onset of puberty — usually beginning around age 10-11 in girls and 11-12 in boys — brings changes in hormone levels that can affect gum health.
We all have millions of microorganisms in our mouth, representing hundreds of different species of mostly helpful, but some harmful, bacteria. Research has shown that total oral bacteria increases between ages 11 and 14, and new types of bacteria are introduced, including some that are not friendly to teeth and gums. Some unfamiliar microbes trigger an exaggerated inflammatory response to dental plaque, so gum bleeding and sensitivity are experienced by many children in this age group. In fact, "puberty gingivitis," which peaks around age 11-13, is the most common type of gum disease found during childhood.
A combination of hormones, lifestyle changes and poor oral hygiene habits raises the risk of oral health problems among adolescents. A more independent social life may be accompanied by a change in eating habits and easier access to snacks and beverages that are sugary, acidic (like sports drinks and soda) or full of refined carbohydrates — none of which are tooth-healthy choices. And as children move toward greater independence, parents are less likely to micromanage their children's personal care, including their oral hygiene routines. Good oral hygiene can keep dental plaque at bay, lowering the chance of having gingivitis and cavities. But let's face it: Adolescents have a lot to think about, and keeping up with their oral health may not be a priority.
To help your preteen stay on top of their oral health, keep healthy snacks at home for your children and their friends and make sure you are well stocked with supplies such as new toothbrushes, floss and toothpaste. In addition, most preteens (and teens) can benefit from gentle reminders about oral hygiene routines.
For optimal oral health through all stages of life, make sure your preteen keeps up with professional teeth cleanings and exams, and talk with us about whether fluoride treatments or sealants may be appropriate for your child.
For more on your child's oral health, read "How to Help Your Child Develop the Best Habits for Oral Health" and "Dentistry & Oral Health For Children" in Dear Doctor magazine.