Posts for category: Uncategorized
By Dedicated Dental Services, PC
August 11, 2021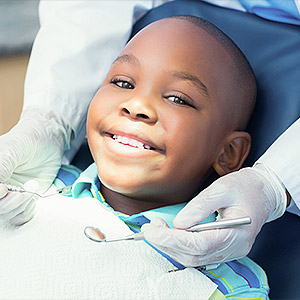 Your child's dental development is in overdrive between birth and early adulthood. The rapid growth of the teeth, gums and jaws occurs mostly on its own—but tooth decay could significantly derail it.
Although most cases of dental disease occur in adults, tooth decay is a major problem for children, particularly involving primary teeth. These teeth are much more important than they seem given their short lifespans: Because they help incoming permanent teeth to align properly, their premature loss due to decay can create future bite problems.
To prevent this from happening, taking steps to prevent tooth decay in young children is well worth the effort. The best strategy is a double-pronged approach. You'll first want to address certain areas that directly contribute to tooth decay. You'll then want to add measures that strengthen the teeth themselves against the disease.
In regard to the former, reducing the levels of harmful bacteria in the mouth tops the list. These bacteria produce acid as a byproduct that in turn softens and erodes enamel, the teeth's natural barrier against decay. We reduce bacteria by eliminating dental plaque, a film of built-up food particles that feeds and shelters bacteria, through daily brushing and flossing.
Certain dietary choices may also contribute to bacterial growth. Refined sugar is a prime food source for bacteria, so limiting it in the diet will help reduce tooth decay. Furthermore, a diet rich in whole, unprocessed foods and dairy provide nutrients strengthen teeth against decay.
The other prong in defeating tooth decay mainly involves protective measures provided by your dentist. Sealants applied to the chewing surfaces of a child's teeth help protect the enamel from the buildup of bacteria in these highly susceptible areas. An occasional direct application of fluoride to teeth further strengthens their enamel, and makes them less susceptible to decay.
This approach can minimize the chances of tooth decay, but it won't eliminate the risk altogether. If it does occur despite your best efforts, prompt treatment can limit the damage and preserve the teeth. Working with your dentist, you can help ensure your child's teeth are protected from this damaging disease.
If you would like more information on best dental care practices for children, please contact us or schedule an appointment for a consultation. You can also learn more about this topic by reading the Dear Doctor magazine article "Dentistry & Oral Health for Children."
By Dedicated Dental Services, PC
June 17, 2020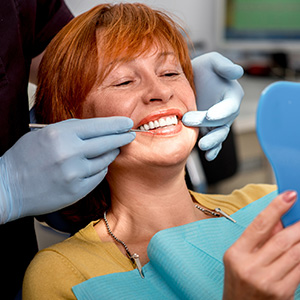 Dental implants aren't simply prosthetic teeth, but rather an innovative system that restores both smile appearance and dental function. And while an implant can indeed replace a single tooth, they can do so much more. Integrated with removable dentures or a fixed bridge, they provide a secure solution to multiple missing teeth.
Implants essentially replace a missing tooth's root, the basis for their lifelikeness and functionality. As such, they're also the most sophisticated restoration used today, requiring a high degree of technical and aesthetic skill to place them properly. In reality, implantation is more a process than a procedure.
If you're considering implants, that process begins with a comprehensive dental exam. During the exam, we'll assess the exact condition of your oral and facial structures like the length of remaining teeth, your bite and jaw dimensions. We'll use this information to plan the type and placement of your implants. The exam may also reveal problems like bone loss that might postpone your implants or suggest another form of restoration.
Using digital technology, we then locate the exact positions for your implants on the jaw to ensure the best outcome. This often results in the creation of a surgical guide, a plastic template placed over the jaw that accurately pinpoints the locations for the drilling sequence during implant surgery.
In most cases once the implants are surgically installed, gum tissue may be sutured over the implant to protect it while it integrates with the bone. In some cases, though, a visible crown may be placed immediately, so the patient can enjoy a tooth-filled smile the same day. This immediate crown, though, is temporary and will be replaced with a more durable, permanent one in a few months.
During this interim, the titanium in the implant post will attract bone cell growth, which will build up on the implant surface. This increased bone contact will help secure the implant fully in the jaw, giving the implant its signature durability.
Once the integration is complete, the permanent crown is affixed to the implant (or implants in the case of a fixed or removable dental appliance). It may have been a long road, but you'll have the closest thing to real teeth.
If you would like more information on implant restorations, please contact us or schedule an appointment for a consultation. You can also learn more about this topic by reading the Dear Doctor magazine article "New Teeth in One Day."
By Dedicated Dental Services, PC
January 20, 2017
Everyone knows that in the game of football, quarterbacks are looked up to as team leaders. That's why we're so pleased to see some NFL QB's setting great examples of… wait for it… excellent oral hygiene.
First, at the 2016 season opener against the Broncos, Cam Newton of the Carolina Panthers was spotted on the bench; in his hands was a strand of dental floss. In between plays, the 2105 MVP was observed giving his hard-to-reach tooth surfaces a good cleaning with the floss.
Later, Buffalo Bills QB Tyrod Taylor was seen on the sideline of a game against the 49ers — with a bottle of mouthwash. Taylor took a swig, swished it around his mouth for a minute, and spit it out. Was he trying to make his breath fresher in the huddle when he called out plays?
Maybe… but in fact, a good mouthrinse can be much more than a short-lived breath freshener.
Cosmetic rinses can leave your breath with a minty taste or pleasant smell — but the sensation is only temporary. And while there's nothing wrong with having good-smelling breath, using a cosmetic mouthwash doesn't improve your oral hygiene — in fact, it can actually mask odors that may indicate a problem, such as tooth decay or gum disease.
Using a therapeutic mouthrinse, however, can actually enhance your oral health. Many commonly available therapeutic rinses contain anti-cariogenic (cavity-fighting) ingredients, such as fluoride; these can help prevent tooth decay and cavity formation by strengthening tooth enamel. Others contain antibacterial ingredients; these can help control the harmful oral bacteria found in plaque — the sticky film that can build up on your teeth in between cleanings. Some antibacterial mouthrinses are available over-the-counter, while others are prescription-only. When used along with brushing and flossing, they can reduce gum disease (gingivitis) and promote good oral health.
So why did Taylor rinse? His coach Rex Ryan later explained that he was cleaning out his mouth after a hard hit, which may have caused some bleeding. Ryan also noted, "He [Taylor] does have the best smelling breath in the league for any quarterback." The coach didn't explain how he knows that — but never mind. The takeaway is that a cosmetic rinse may be OK for a quick fix — but when it comes to good oral hygiene, using a therapeutic mouthrinse as a part of your daily routine (along with flossing and brushing) can really step up your game.
If you would like more information about mouthrinses and oral hygiene, contact us or schedule a consultation.
By Dedicated Dental Services, PC
January 20, 2017
Ever since childhood, when her career as a model and actress took off, Brooke Shields has enjoyed worldwide recognition — through advertisements for designer jeans, appearances on The Muppet Show, and starring roles in big-screen films. But not long ago, that familiar face was spotted in an unusual place: wearing a nasal anesthesia mask at the dentist's office. In fact, Shields posted the photo to her own Instagram account, with the caption "More dental surgery! I grind my teeth!" And judging by the number of comments the post received, she's far from alone.
In fact, researchers estimate that around one in ten adults have dental issues that stem from teeth grinding, which is also called bruxism. (Many children also grind their teeth, but it rarely causes serious problems, and is often outgrown.) About half of the people who are teeth grinders report problems like persistent headaches, jaw tenderness and sore teeth. Bruxism may also result in excessive tooth wear, and may damage dental work like crowns and bridges; in severe cases, loosened or fractured teeth have been reported.
Researchers have been studying teeth grinding for many years; their findings seem to indicate that it has no single cause. However, there are a number of factors that play a significant role in this condition. One is the anatomy of the jaw itself, and the effect of worn or misaligned teeth on the bite. Another factor relates to changes in brain activity that occur during the sleep cycle. In fact, nocturnal (nighttime) bruxism is now classified as a sleep-related movement disorder. Still other factors, such as the use of tobacco, alcohol and drugs, and a high level of stress or anxiety, can make an individual more likely to experience bruxism.
What can be done for people whose teeth grinding is causing problems? Since this condition may have many causes, a number of different treatments are available. Successful management of bruxism often begins by striving to eliminate the factors that may cause problems — for example, making lifestyle changes to improve your health, creating a soothing nighttime environment, and trying stress-reduction techniques; these may include anything from warm baths and soft music at bedtime, to meditation and mindfulness exercises.
Several dental treatments are also available, including a custom-made occlusal guard (night guard) that can keep your teeth from being damaged by grinding. In some cases, a bite adjustment may also be recommended: In this procedure, a small amount of enamel is removed from a tooth to change the way it contacts the opposite tooth, thereby lessening the biting force on it. More invasive techniques (such as surgery) are rarely needed.
A little tooth grinding once in a while can be a normal response to stress; in fact, becoming aware of the condition is often the first step to controlling it. But if you begin to notice issues that could stem from bruxism — or if the loud grinding sounds cause problems for your sleeping partner — it may be time to contact us or schedule an appointment. You can read more about bruxism in the Dear Doctor magazine article "Stress and Tooth Habits."
By Dedicated Dental Services, PC
January 19, 2017
In real life he was a hard-charging basketball player through high school and college. In TV and the movies, he has gone head-to-head with serial killers, assorted bad guys… even mysterious paranormal forces. So would you believe that David Duchovny, who played Agent Fox Mulder in The X-Files and starred in countless other large and small-screen productions, lost his front teeth… in an elevator accident?
"I was running for the elevator at my high school when the door shut on my arm," he explained. "The next thing I knew, I was waking up in the hospital. I had fainted, fallen on my face, and knocked out my two front teeth." Looking at Duchovny now, you'd never know his front teeth weren't natural. But that's not "movie magic" — it's the art and science of modern dentistry.
How do dentists go about replacing lost teeth with natural-looking prosthetics? Today, there are two widely used tooth replacement procedures: dental implants and bridgework. When a natural tooth can't be saved — due to advanced decay, periodontal disease, or an accident like Duchovny's — these methods offer good looking, fully functional replacements. So what's the difference between the two? Essentially, it's a matter of how the replacement teeth are supported.
With state-of-the-art dental implants, support for the replacement tooth (or teeth) comes from small titanium inserts, which are implanted directly into the bone of the jaw. In time these become fused with the bone itself, providing a solid anchorage. What's more, they actually help prevent the bone loss that naturally occurs after tooth loss. The crowns — lifelike replacements for the visible part of the tooth — are securely attached to the implants via special connectors called abutments.
In traditional bridgework, the existing natural teeth on either side of a gap are used to support the replacement crowns that "bridge" the gap. Here's how it works: A one-piece unit is custom-fabricated, consisting of prosthetic crowns to replace missing teeth, plus caps to cover the adjacent (abutment) teeth on each side. Those abutment teeth must be shaped so the caps can fit over them; this is done by carefully removing some of the outer tooth material. Then the whole bridge unit is securely cemented in place.
While both systems have been used successfully for decades, bridgework is now being gradually supplanted by implants. That's because dental implants don't have any negative impact on nearby healthy teeth, while bridgework requires that abutment teeth be shaped for crowns, and puts additional stresses on them. Dental implants also generally last far longer than bridges — the rest of your life, if given proper care. However, they are initially more expensive (though they may prove more economical in the long run), and not everyone is a candidate for the minor surgery they require.
Which method is best for you? Don't try using paranormal powers to find out: Come in and talk to us. If you would like more information about tooth replacement, please contact us or schedule an appointment for a consultation. You can learn more in the Dear Doctor magazine articles "Crowns & Bridgework," and "Dental Implants."